The Caple C2401GM Oven is a brilliant way to finish off any modern kitchen. With a stunning gunmetal exterior and the power to create outstanding cooking results, it's the perfect way to create a space that is completely seamless and streamlined, all at a great price.

Boasting a capacity of 67 litres, full touch control and a handy timer, cooking new recipes will become that bit easier and what's more, with a handy Pyrolytic Self-Cleaning function, scrubbing hard-to-reach, baked on grime will become a thing of the past.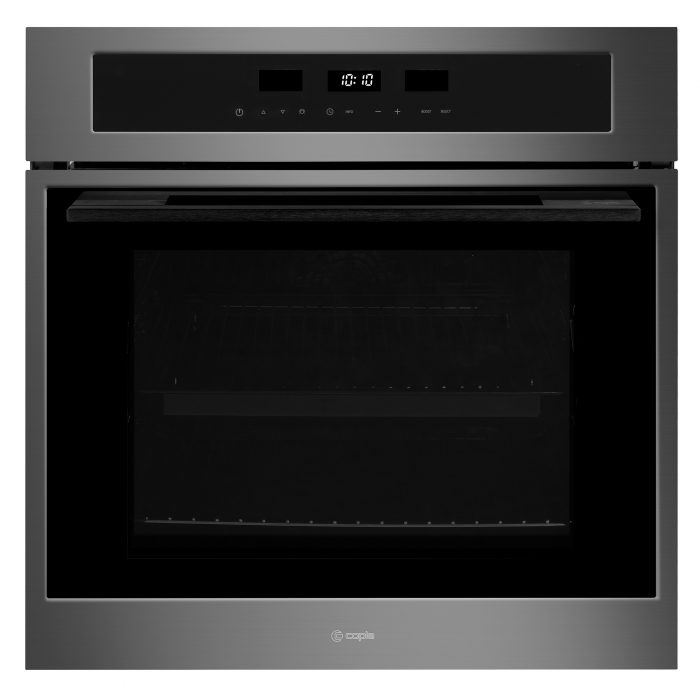 Heat Control
One feature that stands out, is Motionheat +. This allows hot air to be distributed evenly around the oven cavity and the heat to come to temperature quickly. With the Caple C2401GM Oven, long gone are the days of having to wait for the oven to preheat, saving both time and energy.
A clear and intuitive, full touch control panel also makes finding your way around the oven's functions easier. The panel always keeps the time and temperature on view so you know you're cooking is on track to perfection.
Easy Cleaning
This particular oven also comes equipped with innovative 'Pyrolytic Technology'. No longer will you have to slave over the oven, scrubbing away. The Pyrolytic technology works by heating the oven to 470C, at which temperature any grease and grime stuck to the walls is simply burned off into a fine ash. Once this process is finished and the oven is cool, all you'll have to do is dust away the ash and your oven will be spotless once again.
Handy Functions
13 cooking functions, including fan heat, conventional heat, full and eco grill, also allow you to take your cooking abilities to another level. The Turbo Grill is a great feature for preparing foods such as bacon, grilled veg and even toast.

Lastly, the oven is also equipped with a quadruple glazed, heat-reflective glass door. This will help the heat stay in, helping the oven to stay reliable and efficient.
For passionate foodies, Caple is the perfect brand, coupling outstanding build quality and clever functions, however you still require great customer service and delivery options in Bristol. At Nailsea Electrical you can get the Caple C2401GM Oven with great service and a guaranteed excellent price, click here for more information.