While Black Friday is a recent addition to the calendar, once your wallet had been drained by the last-minute deals it's straight on to the main event of the year. With modern times Christmas has become a fully-fledged month in itself. For those that love this festive time of year its heaven, however, for those of us that are watching our waistlines, the indulgence can soon go too far.

While Christmas is a social time of year it also often one of extended inactivity. Even just the stationary run of Christmas Eve to New Year's Day is enough to have lasting effects on weight for months to come. Marry this with the inevitable boxes of chocolates and other treats under the tree with your name on them, and Christmas can turn drastically unhealthy.

However, enjoying Christmas doesn't have to be like this. For many it may feel like overeating to the point of bursting is part and parcel of the time of year, however, the festive season is about so much more. In this guide from NEFF we will be covering all that that you need to know about having a healthier Christmas season, starting with one of the biggest culprits, Christmas Dinner itself.

Hold your horses! We aren't going to do away with the most important meal of the year, and we certainly aren't going to recommend anyone stop the treats altogether in December. This blog will simply cover some clever ways to cut the calories on the big day, with a few simple steps.

Let's start with our centrepiece:
Turkey
A great way to start our healthy Christmas dinner guide, there is little more iconic than a delicious, golden turkey in the middle of the dinner table. Low in fat, high in protein and with fewer calories than chicken there are not many healthier meats for a Christmas celebrating Carnivore.

Roasting your turkey in the traditional way is also one of the healthiest ways to enjoy your meal. Removing the skin from your portion is one easy way to keep the calorie count lower, basting with its own juices regularly is also the preferred option to layering on loads of bacon.

Keep portions well below 200g, and ideally around 150g per person. While a festive Turkey in the centre of the table is an image we all appreciate at Christmas, to avoid overeating it's best to portion the meat on each plate separately and ensure that you can't quickly add more without considering the calorie effect!

Finally, ensure you are buying the right turkey for your family. This also means getting the correct taste, after all, healthy doesn't mean bland! For ultimate taste, you cannot beat a Copa Turkey, raised by a family with over 60 years experience in bird farming. Free to roam vast fields and woods, and enjoying a life that is up to 3 times longer than a supermarket equivalent. These are turkeys that are truly special, happy in life and delicious on your plate!
Potatoes
While the slight dryness of a turkey is bearable and even expected to some degree, the quality of roast potatoes is never up for negotiation. Hard to master and essential for a great roast dinner, someone in every house has a patented technique for creating crispy exteriors and a fluffy interior.

To keep them slightly healthier avoid slathering your potatoes in goose fat or anything else that raises the potential for increased calorie count. Instead of this use the secret key to amazing roast potatoes, an extremely hot oven with potatoes added to a hot pan. This gives an outstanding crust and ensures that you get a perfectly crunchy end product.

Before adding to the oven, boil the potatoes for a few mins to soften the inside, then bash around in a colander to create ridges for crisp edges to form. To protect them from burning spray lightly with cooking oil and then let the heat do the work.

When it comes to picking a type of potato, there is not much of a difference nutrition-wise between the main candidates. Go for a Maris Piper or King Edward, and ensure the potatoes themselves are consistent in size once peeled and divided.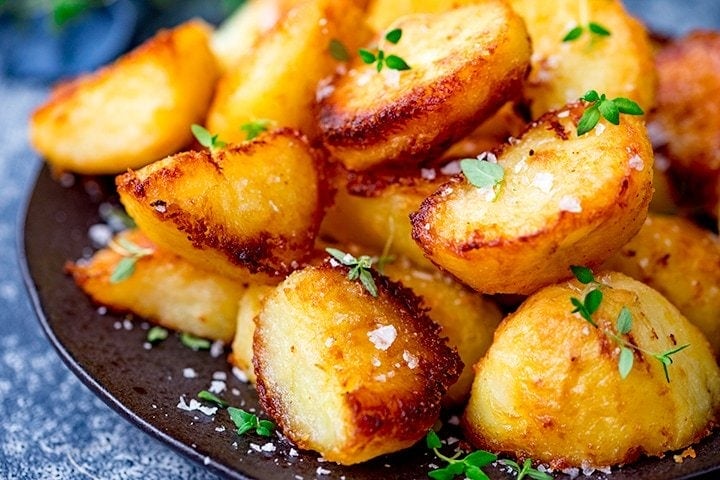 Vegetables

Obviously, veggies are the healthiest part of a Christmas right? Wrong! It's fairly commonplace for butter to be added to anything from brussell sprouts to carrots. This adds a tonne of calories into the mix and they are most unwanted, especially at Christmas.

Instead, the best way to cook the majority of your vegetables is steaming. You can buy a simple tier steamer set up at any decent kitchenware shop, or some modern ovens even have a built-in steam function. In terms of retaining nutritional value, there is no better method for cooking your veg.