Creating stunning dishes at home is the dream of every passionate foodie. However, all the culinary skills of Gordan Ramsey can't create a delicious meal without two things, great ingredients and outstanding appliances. When it comes to buying great produce, the average consumer now has a plethora of high street grocery shops at their disposal. The same could be said about an oven, with the advent of shopping online you can now select from an endless range of brands for your next appliance.

If you are unfortunate enough to buy ingredients that don't match up to your high standards, this is easily fixed on the next trip to the shop. However, appliances are replaced after a shelf life of multiple years so making the wrong choice on your next oven could be catastrophic. If you're a home cook considering an upgrade on your current model, you would be hard-pressed to find a better-suited brand than NEFF.

Packed with innovative features, as well as created with long-lasting German build-quality, their models are designed to last and perform at the highest level for years to come. Understanding what any appliance can really do for you can be a minefield, so the team at Nailsea Electrical have run through one of NEFF's latest models, B5ACM7HN0B oven to break down everything you need to know before purchasing your next oven.
Iconic, Useful Design
To the initiated a NEFF oven is unmistakable. Those that enjoy watching the Great British Bake Off will also have seen the NEFF range on display as the contestants are put through their paces. With the Slide&Hide door, a NEFF oven is not only eyecatching but also easier and safer to use.

By utilising a unique hinge system and rotating handle the main oven door on the B5ACM7HN0B can seamless slide under the main cavity and out of the way. This makes it ideal for adding and removal of larger, more awkward dishes. Certainly, if you have slaved away for hours to create a delicious meal you certainly don't want the oven door to hinder you, or worse cause you to drop your dish!

Also perfect for checking in on cooking meats and basting, the Slide&Hide system is certainly one reason that a NEFF oven should be high up on your list for your next oven.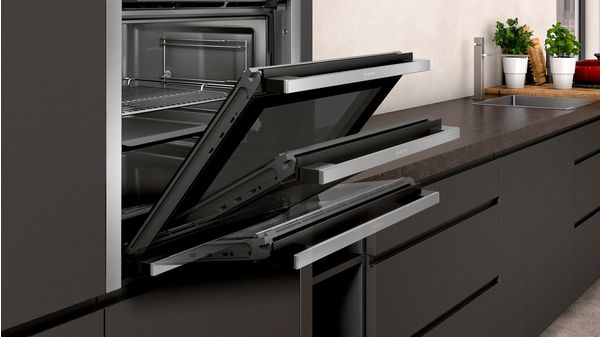 Cooking Versatility

With an impressive 71L capacity this single oven is perfectly suited for all but the largest families. If you are cooking for multiple family members every night it's more than likely dietary requirements or fussy eaters mean preparing multiple dishes to keep everyone happy. If this is a common occurrence for you then this NEFF model has the ideal feature for you.

Designed to add much-needed versatility to everyday cooking, the NEFF B5ACM7HN0B comes equipped with the brand's unique hot-air technology, CircoTherm. Normally when an oven heats the main cavity the heat is distributed randomly and without any direction, this means cooking multiple flavours at once will lead to intermingling and affect the end product. With this latest technology, NEFF has all but eliminated the annoyance of flavour transfer.

By directing the heat to the back of the oven, CircoTherm can then direct this energy at the three cooking levels through dedicated vents in the cavity. This creates a hot-air envelope around your food and means air from one dish never touches another. This makes CircoTherm perfect for cooking several different main courses for the family, or for home cooks that want to prepare multiple courses at once.

Of the eight cooking functions in the NEFF B5ACM7HN0B, three utilise this latest cooking technology. CircoTherm as a standard mode is your go-to for everyday baking and roasting, simply use as your every day for excellent, consistent results. CircoTherm Gentle and Intensive respectively create the perfect ways to cook everything ranging from light, delicate fish to crisp pizzas.

As well as CircoTherm this oven also has a variety of grill modes, to balance tasty results with efficiency by only using the area and strength you need. The NEFF even has a dedicated Bread Baking mode, so achieve the perfect crust on your next home-baked loaf.

When it comes to cooking your Sunday Roast, this model has NEFF's Singlepoint Meatprobe. This means that monitoring of the internal temperature of your meat is made even easier, and takes the guesswork away from getting that perfect finish to your beef.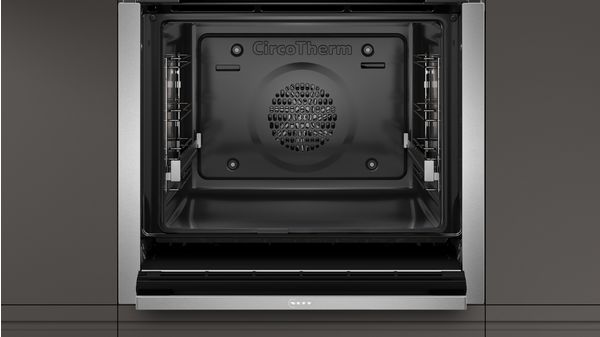 Cleaning Versatility

Many modern ovens contain at least one way for you to make the job of cleaning the interior easier. However, with the B5ACM7HN0B, NEFF has taken it a step further with two dedicated functions depending on your needs. This means with this latest model the effort of removing baked in spills and food is all but eliminated.

To keep on top of the everyday build-up of food there is the EasyClean option. Removing lighter soiling of the cavity is as simple as adding warm water and a few drops of washing up liquid before selecting the EasyClean mode using the NEFF's TouchControl panel. Once the cycle is complete all you have to do is wipe the interior once with a cloth, then you are back cooking again in no time!

For deeper, less frequent cleans there is the more intense Pyrolytic mode. By setting the internal temperature of the cavity to over 400 degrees, over the course of a few hours any baked in residue will be turned to ash. Once Pryolytic mode is completed all you need to do is wipe the ash away then you are left with a truly spotlessly clean oven.
To find out more about the B5ACM7HN0B contact us at Nailsea Electrical, and for information on our flexible delivery options in the

Bristol area

. Call us today on 0117 924 6002, or
if you wish to find out more about the
B5ACM7HN0B Oven
visit our website for more information.