The modern kitchen is personified by that instantly recognisable style, chiefly the sleek glass and stainless steel that not only gives a premium feel but also means that contemporary appliances are at home in almost any kitchen. One cooking appliance, in particular, feels like it could be considered as much a piece of tasteful design as functional equipment, the cooker hood.

However, with this duel need for form and function, it can be difficult to cut through the fog and know which brand and style of the cooker hood are right for you. That's why the team at Nailsea Electrical have created this handy review of one of the models that is sure to be high up your list, the NEFF D95IHM1S0B.

This angled chimney hood comes from a brand that is well known for being the number one choice for those who love home cooking and are passionate about food. As a heritage German brand, NEFF is also a great choice for those that want an appliance that will last.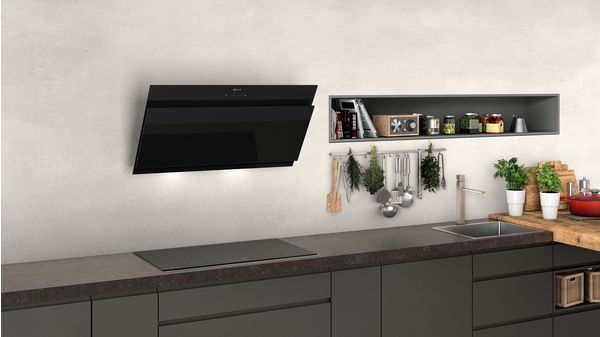 Keep Your Kitchen Smelling Fresh
With its sleek, black glass design the D95IHM1S0B is created to eliminate odours and steam when cooking. This keeps your home environment pleasant and leaves you to get on with creating your next meal. With intelligent design, this model will even adjust extraction rates when the level of steam increases meaning you spend even less time operating this hood and more have more time to focus on the kitchen.
An extraction rate of 420 cubic metres of air each hour means this model is perfect for smaller to medium-sized kitchens. The built-in boost mode takes this extraction rate even further, making it perfect for removing intense odours or suddens smoke like when pan-frying a steak.
With TouchControls integrated into the flat surface, the control panel of this model is simple to use at just the touch of the button. Adjustments to the airflow are taken care of quickly, allowing you to adjust on the fly to get the perfect rate of extraction for your needs. Even at the highest settings, you can still hold conversations with a quiet running noise level of just 58dB ensuring that the efficient motor performs well and always with low disruption.
To find out more about the NEFF D95IHM1S0B Hood contact us at Nailsea Electrical, with flexible delivery options in the Bristol area. Call us today on 0117 924 6002, or if you wish to find out more about the D95IHM1S0B Hood visit our website for more information.