A double oven is a surefire sign that a homeowner is a passionate cook. The much-needed versatility and of having once installed also means that juggling tricky family mealtimes is a breeze. This isn't just down to the capacity but also the fact that you can set multiple dishes to cook at different times.

If you have the space in your kitchen for a double oven and it's time to upgrade it can be tricky to know which model suits you best. As an appliance that will sit in your home and be used every day for years ahead, you need an oven you can rely on and one that works with you.

An appliance brand that is well established in the cooking world is NEFF. As a range, they create intelligent features that make creating food easier and cooking more fun. In this handy breakdown, the team at Nailsea Electrical run through all you need to know about the J1ACE4HN0B Double Oven, one of the latest appliances from the German brand, and all you need to know about this double oven.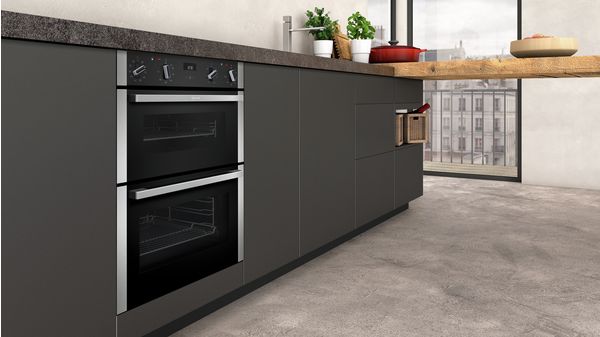 Unique Cooking Technology
The main cavity is your go-to for day to day cooking. With an impressive 47 litre capacity, the larger half of the double oven is already large enough to add much-needed versatility to the cooking process. NEFF has even taken this a step farther with its CircoTherm technology.

A unique way of directing the air through vents at each cooking level, after pushing it to the back of the oven through intelligent fan control, this is a great way to remove the worry of multiple dishes at once. With CircoTherm in the J1ACE4HN0B Double Oven you bake and roast on three levels, with flavours, never intermingling. This means cooking a savoury main course with a pastry for dessert is done while keeping the dish tasting authentic and without cross-contamination.

The flexibility of this innovative technology doesn't stop there. CircoTherm in this NEFF double oven has several distinct modes for you to choose from, meaning three of the main cavity's models seven cooking modes use this mode. Firstly there is the traditional CircoTherm, which is your first port of call for everyday baking and roasting.

Next, there is CircoTherm Intensive. This function is ideal for cooks that are looking to apply a neat, crisp finish to a dish. When baking pastry, or even pizzas, selecting this mode is an ideal way to achieve a perfectly cooked top and delicious crisp base. The J1ACE4HN0B does this be combining their unique CircoTherm technology with Bottom Heat to create the ideal balance of heat intensity for certain types of bake.

In contrast, CirocTherm Gentle is designed to utilise the same technology but in a less concentrated way. The ideal choice if you want a cooked through end product, without external browning or a crust. CircoTherm Gentle gives a perfect, delicate finish to fish in particular leaving the subtle flavours preserved and texture light and flakey. By alternating the intense heat of the CircoTherm, the J1ACE4HN0B makes the best use of residual heat to give an efficient and consistent finish to your food.

For multitasking, the 34L top cavity is equipped to both bake and grill, with a full surface cooking area available that means this NEFF double oven is well equipped for all of your everyday needs.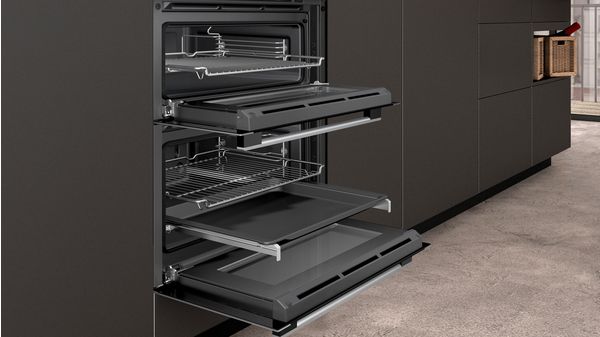 Efficient & Easy To Clean

With the double the number of cavities you may think that that also means doubling up on running costs and cleaning effort. However, NEFF J1ACE4HN0B is firstly rated A for energy efficiency, so your bills shouldn't suffer for the versatility of this appliance.

NEFF has also created an oven that is as easy to clean as possible, meaning even the most frequent of home cooks aren't burdened with a full spring clean after a weekend in the kitchen. With EasyClean regular maintenance is made as simple as adding some lukewarm water with a touch of washing up liquid, then wiping the interior with a cloth once this cycle is completed.

To avoid having to reach all the way into the back of the cavity, this model uses the EcoClean Direct coating. This means grease and any debris from your daily cooking routine is broken up quickly upon the next cooking cycle.
To find out more about the J1ACE4HN0B contact us at Nailsea Electrical, and for information on our flexible delivery options in the

Bristol area

. Call us today on 0117 924 6002, or
if you wish to find out more about the
J1ACE4HN0B Double Oven
visit our website for more information.