Cooking at home is not only a great way to create delicious meals, but also be healthier and save money on buying ready meals. Buying your ingredients may seem like the first step to creating a home-cooked meal, however, the real first step is having the equipment to produce consistently delicious results.
Finding the best hob for your kitchen may seem simple. However, if you are passionate about food then it's important to identify the differences between the best brands. NEFF has long been associated with creating exciting, innovative features in it's cooking appliances and its range of hobs are no exception.
Here the team at Nailsea Electrical break down everything you need to know about one of NEFF's latest model, the T46FD53X2 Hob. Read on to discover why NEFF should be one of the first names on your mind when it comes to cooking.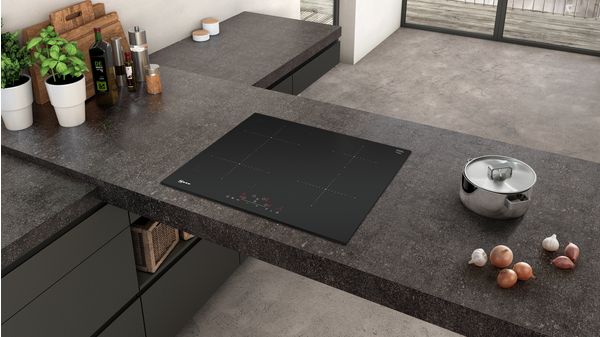 Full Control At Your Finger Tips
One of the most common challenges when using a hob is ensuring the heat given is consistent and simple to manage. While an induction hob does give you a sleek, contemporary feel to your kitchen you don't have the same visual confirmation you get with a traditional gas model.
However, with the T46FD53X2's TouchControl controlling the heat is as simple as a press of a button. The built-in touchpad means that you can easily set your hob to the same level of heat when you return to cook the meal again. When you need heat even faster there is even a PanBoost function that is perfect when you need to get water up to the boil or want as high heat as possible for searing meat.
In total each of the four zones has a choice of 17-stage power settings. The variable size of each zone also means that you can focus heat for the perfect size pan, but your options are not limited to just 4 cooking zones. Combi Induction means you can actually combine two zones together, which is perfect for larger pots or griddle pans.
Even when you need to change temperature this hob is designed to help you maximise the possibilities of your hob. With Power Move you can split the Combi Zones into two types of heat, this makes it perfect for changing from a boil to a simmer in a flash. This means pots that are slowly cooking can be moved easily to the back of the hob out of the way, and also means that you can keep food warm as you cook more ingredients or assemble your dish.
The NEFF T46FD53X2 even has a built-in timer to help you keep your cooking on track and consistent. This feature will also ensure that cooking zones are never left on once you have finished preparing your meal.
To find out more about the T46FD53X2 Hob contact us at Nailsea Electrical, and for information on our flexible delivery options in the

Bristol area

. Call us today on 0117 924 6002, or
if you wish to find out more about the
T46FD53X2 Hob
visit our website for more information.